Bill McLarney, Aquatic Program Specialist, Land Trust for the Little Tennessee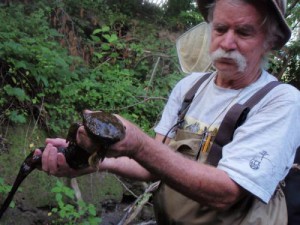 Research Emphasis:
Since 1989, has conducted Index of Biotic Integrity Surveys on fish populations in the Upper Little Tennessee Watershed.
Contact Information:
Primary Organization: Land Trust for the Little Tennessee
Mailing Address:
William O. McLarney
P. O. Box 1148
Franklin, NC 28744
U.S.A.
E-Mail: billmclarney@gmail.com
---
CWT Data Sets:
4045 (Upper Little Tennessee River Biomonitoring Program Database)
Journal Articles
Dornelas M, Antão LH, Moyes F, et al. BioTIME: A database of biodiversity time series for the Anthropocene. Global Ecol Biogeogr. 2018; 00:1 - 26. https://doi.org/10.1111/geb.12729
Reports
Holt, A., J. Love, W. McClarney, "Upper Little Tennessee Watershed Water & Habitat Quality Educational Curriculum", (2009). Teachers Guide, Coweeta LTER & Little Tennessee Watershed Association, Franklin, N.C.