Mission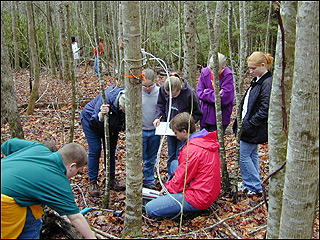 The mission of the Coweeta LTER Schoolyard Program is to utilize the LTER programs and network to promote training, teaching, and learning about the value of long term ecological research and Earth's ecosystems.
Goals


Provide direct learning experiences about long term ecological studies to middle school, high school, community college students, and their instructors.


Promote student-scientist interactions that foster understanding of careers in science.


Collect and share data that are relevant to the five core LTER research areas: primary production, population studies, movement of organic matter, movement of inorganic matter, and disturbance patterns.


Provide opportunities for students to learn about local ecosystem structure and function.


Provide Science Study Boxes, which are filled with science equipment and activities, to local educators
Evaluation


Coweeta LTER provides 6 Science Study Boxes filled with science equipment and activities. To asses the the quality of these study boxes and whether or not they are meeting teachers' objectives, an evalutation form is provided with each box.