Macon Middle School Projects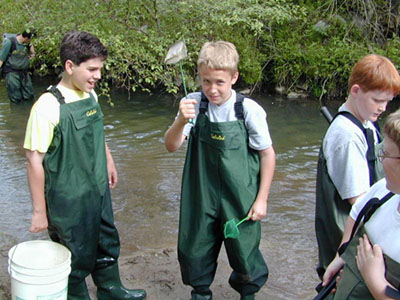 From the Macon Middle School, 15 – 18 sixth grade students from the science classes participate each year in the Coweeta program. The students come to eight Saturday sessions during the school year, approximately one per month. Each Saturday meeting lasts for about 4 hours, giving the students and researchers time to do a scientific project together. Locally, the middle school program has worked with seven teachers and approximately 125 students. 
Rabun Gap - Nacoochee High School Projects
Students at Rabun Gap Nacoochee School have been assisting Coweeta researchers as a part of the Schoolyard LTER program since its inception. The private college prep school is located just south of Coweeta Hydrologic Lab across the state line in Georgia. Involvement has included collecting stream samples at Joyce Kilmer Memorial Forest, assisting with field data collections on their school site, and assisting with tree growth studies at Joyce Kilmer Memorial Forest and at research sites on Coweeta Hydrologic Lab long-term gradient plots. The students at Rabun Gap Nacoochee School have contributed significantly to ongoing studies of the Coweeta LTER program, while gaining valuable field experience in their classwork. From 1998 through 2004, six instructors and approximately 117 students from Rabun Gap have participated in the Coweeta Schoolyard LTER activities.
UNC Institute for the Environment
Since 2001, Coweeta scientists have been engaged as mentors for undergraduates enrolled in the UNC Institute for the Environment of the University of North Carolina-Chapel Hill.
Southwestern Community College Projects
In past years, our Schoolyard project with Southwestern Community College focused on forest carbon cycling in eastern deciduous forests. Deanne Oppermann and Brian Kloeppel lead the field activities with student participants at Coweeta Hydrologic Laboratory on three Saturdays each semester until 2008.