Legacy Research pre-1996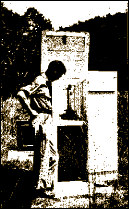 Origins
In 1933, 3,900 acres (later increased to 5,750 acres) of the Nantahala National Forest were set aside as the Coweeta Experimental Forest for an expanded program in watershed management research. An intensive program of weir construction began in 1934 along with a network of 56 standard rain gages, numerous ground-water wells, and meteorological stations. By 1939, calibration of watersheds at Coweeta was far enough along on some catchments to begin treatments, and a period of experimentation began.

Since then, scientists have conducted a variety of watershed experiments at Coweeta. Early studies documented the harmful effects on soil and water resources by mountain farming, woodland grazing, and unrestricted logging. These early land-use demonstrations were publicized in the highly successful film Waters of Coweeta. Scientists designed and implemented water-yield experiments to measure effects on stream flow of complete or partial forest cuttings and conversion from one type of cover to another. The knowledge gained in these early experiments was the basis for a pilot test of intensive multi-resource management of Southern Appalachian forests and has provided guidelines for watershed management and best management practice standards on public and private lands alike. More recent experiments utilizing cable logging methods and advanced forest road designs have demonstrated improved methods for managing steep mountain lands to minimize damage to soil and water.
Early Emphasis

Coweeta's early emphasis on how land management practices affect the hydrologic cycle has evolved into a broader interdisciplinary effort that couples hydrology within an ecosystem context. The culmination of the first 50 years of research at Coweeta was synthesized at a 1984 Symposium at the University of Georgia and later published in a book entitled Forest Hydrology and Ecology at Coweeta. The research combines short-term (5 years or less) with long-term (decades) studies on the responses of forested watersheds to various kinds of natural and human-induced disturbances. Although much of the research takes place within the Coweeta basin, research studies are installed in other forest ecosystems in the region. The centerpiece of the cooperative effort is the Long-Term Ecological Research (LTER) Program with the University of Georgia, begun in 1980 and funded through the National Science Foundation (NSF).
Research Work Unit (RWU)
The mission of the Research Work Unit (RWU) at Coweeta was and is to evaluate, explain, and predict how water, soil, and forest resources respond to management practices, natural disturbances, and the atmospheric environment; and to identify practices that mitigate impacts on these watershed resources. Process-level studies on Coweeta's undisturbed watersheds provide the control for evaluating ecosystem responses to disturbances. These studies support the RWU mission and greatly expand the scope and depth of scientific effort at Coweeta.
1980s and 1990s
Since the late 1980's and early 1990's, research focuses on studies along complex environmental gradients to examine the response to disturbance in a landscape perspective. The causes and consequences of land cover change in the southern Appalachians were examined through three linked components of the landscape: upland forests, riparian zones, and streams. In addition, the regional and socio-economic components of the research were included to encompass a large scale (56,000 km2) approach to better understand the regional interactions of our ecosystems. These studies were based on the legacy of information about Coweeta, dating back to 1934.